Watch the video and find out why ALLIANCE produces the greatest Jiu Jitsu champions in the world.
HISTORY OF THE ALLIANCE ASSOCIATION
In the 1980s Master Romero Cavalcanti (Jacaré) and his two black belt students, Fabio Gurgel (General) and Alexandre Paiva (Gigi) followed different paths in search of success in their own academies. However, in all the championships they met, they ended up competing among themselves, creating an unfair rivalry because of their origins. That is why in 1993 the three made the decision to form an alliance, ALLIANCE, so they could go hand-in-hand in all the championships.
In 2014, seeing that each of their academies was expanding and forming their own affiliates, they decided to create an association to unify the teaching method and implement the management skills that were making great strides in the hands of Fabio Gurgel.
Today the ALLIANCE Team has over 300 affiliates worldwide, with a well-renowned methodology and 13x WORLD CHAMPION title which shows the strength, dedication, and unity of this team. Among the main champions are Sergio Moraes, Bruno Malfacine, Cobrinha, Leonardo Leite, Leo Nogueira, Tarsis Humphreys, Bernardo Faria, Michael Langhi, Marcelinho Garcia, Lucas Lepri, Daniela Genovesi, Gabi Garcia, Monique Elias, Fernando Terere and Andresa Correa.
And you can be part of this story. By becoming an affiliate, you will have the ALLIANCE methodology courses at your disposal and all the management material to become a success.
Romero "Jacaré " Cavalcanti
Born in 1952, Jacaré began his BJJ training at the age of 11. At age 16, he joined the famous Gracie School in Copacabana, where he grew up. Jacaré and the Gracies lived in the same neighborhood, so he met them all. He trained BJJ with Carlos Gracie Jr., Gracie Crolin, Santos Fabio, Mauricio Gomes, Machados, Rickson Gracie, and many others.
Born in 1970 in Rio de Janeiro, Fabio started his career in Jiu Jitsu aged 13. At 16, after winning some titles as a blue and purple belt, he became an instructor at Jacaré Jiu Jitsu Academy. At the age of 19, he received his black belt — the first black belt of master Romero Jacaré. In 1993 he was one of the founders of the ALLIANCE team alongside Alexandre Paiva and master Romero Jacaré.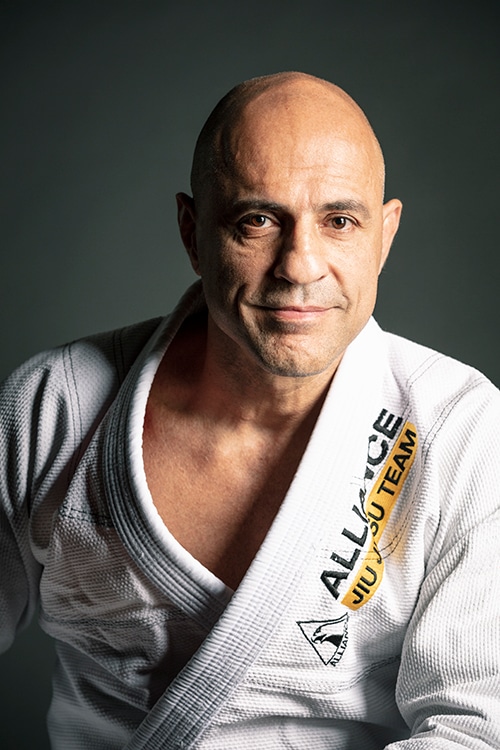 Alexandre Paiva began training Jiu Jitsu in 1983 with Professor Jacaré in Ipanema training on average 8 hours a day. He began to stand out among the students and began participating in competitions as a blue belt. In 1991 he obtained his black belt from Jacaré and began a new phase in his career. He was a teacher at Jacaré Academy, as well as the Ipanema Team 1 Academy and the Federal Club, Strike academy.
Meet some of our world champions.
Athletes that are leaders in the world of Jiu Jitsu and leaders in life.